Rawai seafood market, biggest selection of fresh seafood in Phuket
Rawai seafood market is the ultimate spot i
f you want the freshest and best fish.
Imagine a marketplace offering an abundance of fresh seafood, the aroma of the ocean filling the air, and the animated sound of bargaining echoing through the stalls.
This is Rawai Seafood Market, a must-visit destination for any seafood lover visiting Phuket.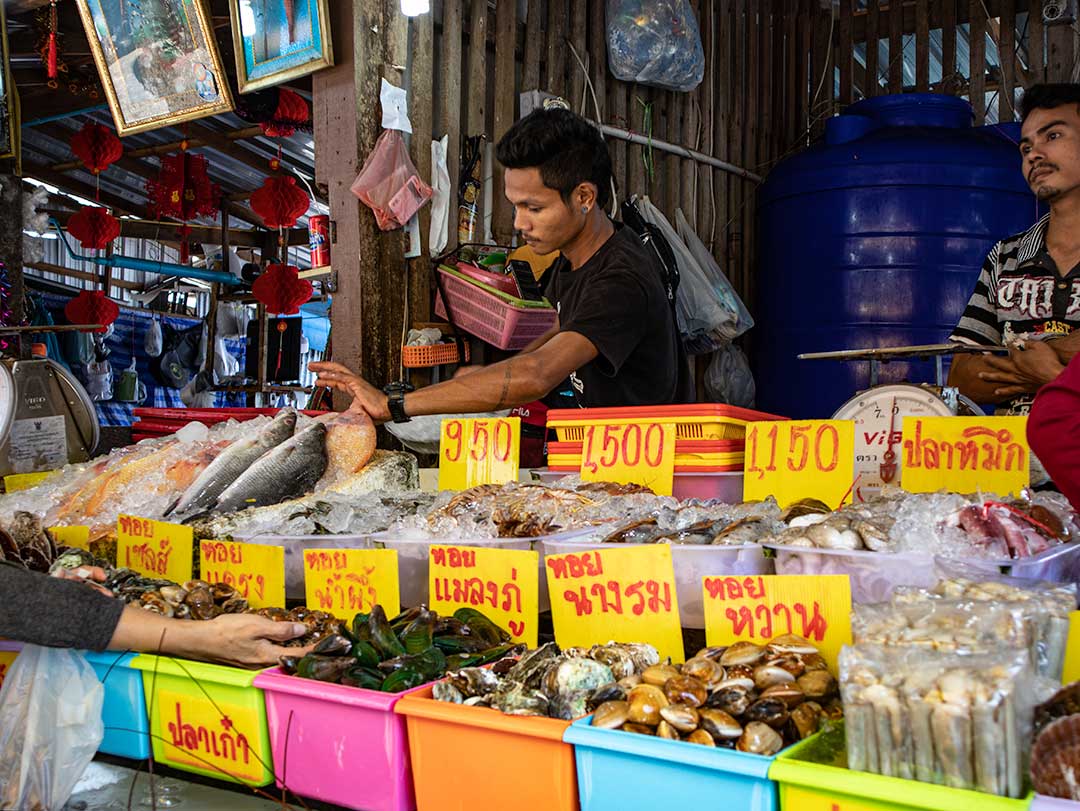 The market's roots stretch over a century, beginning as modest fishermen gathering and evolving into today's lively culinary hub.
Situated along the picturesque Rawai Beach, this bustling market is a vibrant community of sea gypsies whose rich history and cultural heritage have been preserved despite pressures from local business interests.
But luckily for both seafood lovers and people who live there, DNA tests from people buried in the area, compared to those who live here now, show that they have lived in the village for more than 100 years.

The market in Rawai offers a wide selection of seafood.
Among the available options are various types of fish, crabs, lobsters, squid, prawns, and shellfish. The market's seafood is sourced daily from local fishermen, ensuring freshness and quality.
With various choices to suit different preferences and budgets, the Rawai Seafood Market provides a straightforward opportunity for customers to purchase and enjoy fresh seafood.

You can also find more exotic seafood, some more exotic than others and many too exotic for me.
You'll find all the shops selling seafood on the beach side of the minor road. Directly across the street, numerous restaurants provide a convenient service to prepare freshly bought seafood for your preference for a fee per kilo, allowing you to enjoy the flavor of your catch on the spot.
Sum up and why to visit.
Bargaining is an essential part of the shopping experience. Start by offering a lower price than the vendor asks, and be prepared to negotiate with a friendly and respectful tone.
Take your time to explore this vibrant street, compare prices, and chat with the vendors to find the best deals and enhance your cultural experience.
Rawai seafood market is more than just a place to buy fresh fish; it's a cultural experience offering a glimpse into the local way of life.
When planning your trip to the Rawai seafood market, there are a few things you need to know. First, bring enough cash for your purchases and be prepared to bargain with vendors.
As you walk the lively street, take the time to explore the market, engage with the locals, and choose from the wide selection of fresh seafood.
Once you've selected, head across the road to one of the nearby restaurants, where they'll prepare your catch for a fee (usually in baht per kilo).
This unique concept allows you to enjoy the experience of selecting, bargaining, and tasting the freshest seafood flavors, creating lasting memories of your time in Phuket.
So, take advantage of this perfect opportunity to visit this ideal collection of seafood restaurants and add the Rawai seafood market to your itinerary.