Baan Dam Museum or Blackhouse Museum
Baan Dam Museum is a collection of exceptional wooden houses where the outside is only matched by what you find inside.
Baan Dam Museum or the Black House as it is called by tourists is truly an amazing place.
If you do not have too much time and want to be sure you see the most exciting places when you are visiting Chiang Rai, Baan Dam Museum is one of the places you have to visit and put it on the top of your list.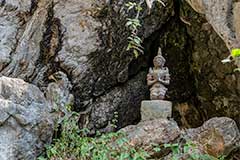 My visit to the Buddha Image Cave was probably the closest I came to an "Indiana Jones" experience on my expedition to the Golden Triangle.
Maybe not quite "Indiana Jones" but it took a little effort, to climb the decayed staircase to get up to the cave. Entering the cave was also a little exciting as the entrance was overgrown with thorny Bougainvillea
All in all, it was a really good experience, a healthy break from the normal tourist routine.
Chiang Rai City Pillar Shrine, or San Lak Muang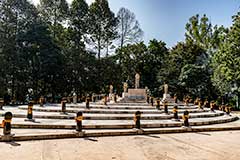 Chiang Rai City Pillar Shrine, or in the Thai language San Lak Muang, was probably not the most exciting place I visited on my trip to the Golden Triangle.
But it's part of the Lanna culture for a city to have a City Pillar Shrine, so when I get to a town with one, I usually pay a visit.
Maybe the monument itself isn't the most exciting thing, but there is always a story behind it that can be somewhat interesting, like the story behind Chiang Rai City Pillar Shrine.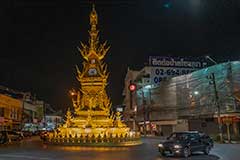 When you see Chiang Rai Clock Tower you can talk about "going the extra mile" when designing a roundabout.
I won't use the word overdone, as it sounds negative and I think the Chiang Rai Clock Tower is amazing.
If you do go for a drive in Chiang Rai, I highly recommend you give it a few spins.
Garden Of Reeds Chiang Rai Flower Festival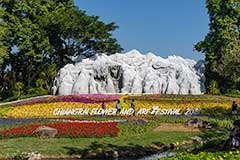 I was lucky, when I visited the Garden Of Reeds it was at the time of the year Chiang Rai Flower Festival was being held in the park.
I have been to many flowers shows around Thailand over the years and I have rarely been disappointed, and I was certainly not when I visited the Chiang Rai Flower Festival in Garden Of Reeds.
Mae Fah Luang Art and Culture Park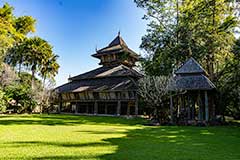 Mae Fah Luang Art and Culture Park are definitely worth a visit, especially if you are into Lanna art and Teak woodwork.
Set in a stunning park you will find Teak houses with exhibitions of Lanna art.
I was particularly excited by one own large exhibition, there told the history of teak wood and how it was processed with traditional tools.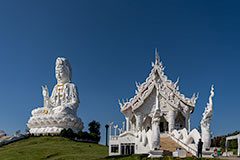 Wat Huay Pla Kang is an amazing temple with a giant Buddha statue on a hilltop.
Built in a mix of Chinese and Lanna styles it is one of the more special temples in Chiang Rai, with a very high "wow" factor.
I took more than 100 pictures, in less than an hour, so Wat Huay Pla Kang in Chiang Rai is the place if you want some good shots.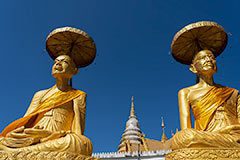 Wat Khua Khrae the Golden Temple. Taking into account the White Temple, the Blue Temple, and the Black House,
Wat Khua Khrae can only be the Golden Temple.
Although it's a small temple on a mountaintop, the elaborate use of golden colors makes a visit to Wat Khua Khrae a golden experience.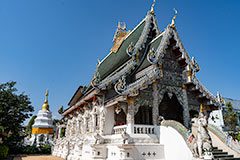 Wat Mung Muang is a small, beautifully decorated, 700-year-old temple, as old Chiang Rai city.
The story says that The Ming Muang stupa is the place of the Buddha´s relics. The stupa´s design is a mixture of Lanna and Burmese architecture.
As I said, it is not that big. Still, the history, the architecture, and the many beautiful details make a visit worth your time.
So even if you only have a few days to explore Chiang Rai, it should be at the top of your list of what to see in Chiang Rai.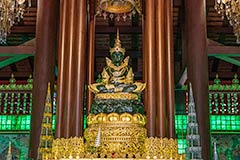 Wat Phra Sing Chiang Rai
Wat Phrathat Doi Chom Thong
Wat Rong Khun – White Temple
Wat Rong Suea Ten (Blue Temple)
Wat Tham Phra (Buddha Cave Temple)